Description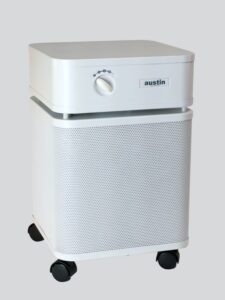 The Austin Air Pet Machine® is designed specifically for customers with pets. As much as we love our animals, often they can leave unwanted odors that are difficult to get rid of. The Austin Air Pet Machine® will freshen up the air in your home giving you the chance to enjoy your pets so much more. The Austin Air Pet Machine® has also been selected for clinical trials at the University of Washington, where it is proving highly effective at removing ammoniums from the air.
---
The Pet Machine® addresses indoor air quality concerns related to your indoor pets by removing odors, sub-micron particles such as pet dander, noxious gases and chemicals. Austin Air's 360-degree intake system draws air into all sides of the Pet Machine®, passing it through a 4-stage filter.
The result? Happy pets and owners alike!
Unit Specifications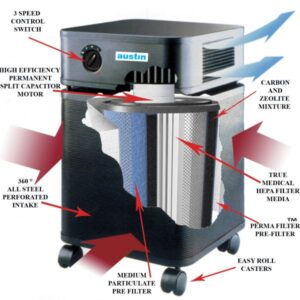 Dimensions: 14.5″L x 14.5″W x 23″H
Weight: 47 lbs.
360° Perforated steel intake housing
Baked on powder coat paint finish
3 speed centrifugal Fan
High efficiency motor rated for continuous use at high RPM
CSA approved
Filter Specifications
STAGE 1 – Large Particle Pre-filter. Removes particles easily seen by the naked eye (e.g. dust, hair and pet dander)
STAGE 2 – Medium Particle Pre-filter. Removes small to medium size particles (e.g. molds, spores and pollen)
STAGE 3 – Over 780 cubic inches of Activated Carbon, Specially Impregnated Carbon and Zeolite. Removes ammonias, pet odors and dander, chemicals, and gases
STAGE 4 – 60 sq. ft. of True Medical Grade HEPA. Removes 99.97% of all particles larger than 0.3 microns and 95% of all particles larger than 0.1 microns.