Description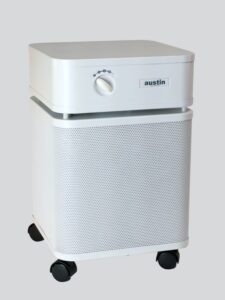 The Austin Air Allergy Machine® was developed specifically for people with asthma and allergies. Its unique design increases air flow, filtering allergens from the air immediately. In clinical trials the Austin Air Allergy Machine® was shown to dramatically reduce hospital visits for young asthmatic children.
---
The Allergy Machine® provides relief for those suffering from asthma or every day and seasonal allergies by removing sub-micron particles such as pollens and dust mites as well as chemicals and noxious gases. Austin Air's 360-degree intake system draws air into all sides of the Allergy Machine®, passing it through a 4-stage filter.
The result? In a third party study, results showed less emergency room visits for asthma and allergy sufferers.
Unit Specifications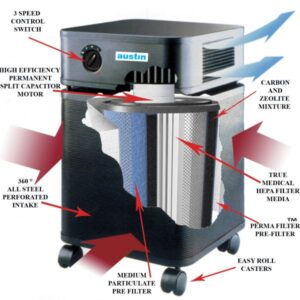 Dimensions: 14.5″L x 14.5″W x 23″H
Weight: 29 lbs.
360° Perforated steel intake housing
Baked on powder coat paint finish
3 speed centrifugal Fan
High efficiency motor rated for continuous use at high RPM
CSA approved
Filter Specifications 
STAGE 1 – Large Particle Pre-filter. Removes particles easily seen by the naked eye (e.g. dust, hair and pet dander)
STAGE 2 – Medium Particle Pre-filter. Removes small to medium size particles (e.g. molds, spores and pollen)
STAGE 3 – 60 sq. ft. of True Medical Grade HEPA. Removes 99.97% of all particles larger than 0.3 microns and 95% of all particles larger than 0.1 microns.
STAGE 4 – Military Grade HEGA Carbon Cloth. HEGA (High Efficiency Gas Arrestance), providing an extremely large surface area for adsorption of chemicals, gases, viruses and bacteria.