Automotive Paint Spray Booths
Clark Air Systems is proud to be a distributor for Global Finishing Solutions, the world's leading manufacturer of paint booths and finishing systems for Industrial Coating and Finishing, Automotive Body Shops, Aerospace Finishing, and Truck and Large Equipment Finishing.
• Auto & Truck Paint Booths, Spray Booths
• Automotive Prep Stations
• Paint Mixing Rooms
• CTOF Paint Booths
• Spray booth Filters
• Open Face & Bench Paint Booths
• Large Vehicle Finishing Booths
• Powder Coating Spray booths
• Finishing Systems
• Industrial Ovens
• Pre-treatment Washers & Parts Washers
• Dust Collection Booths
Ultra Plus 1 •  Ultra •  Advance Cure System •  Professional •  Concept •  Select •  Prep Station •  Mix Rooms •  Small Parts Booth •  Pyramid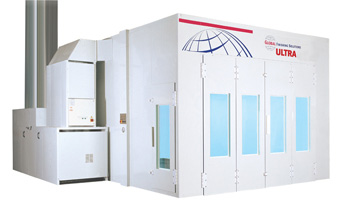 Ultra Outside View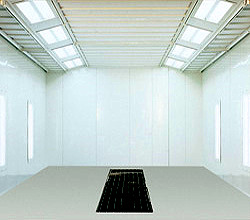 Ultra Inside View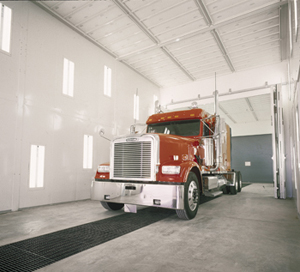 Truck Booth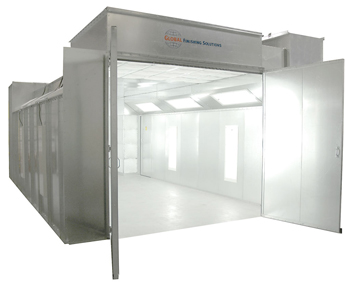 Select Booth
| | | | |
| --- | --- | --- | --- |
| Ultra Outside View | Ultra Inside View | Truck Booth | Select Booth |
Advanced spray booth technology and decades of experience as the premiere paint booth manufacturer make Global Finishing Solutions the foremost authority in spray booth finishing environments. Global Finishing Solutions enjoys strong relationships with paint manufacturers as well as exclusive body shop spray booth supplier status in all major car manufacturers' shop equipment programs. Global Finishing Solutions is a GSA approved supplier of aviation paint booths for the United States Government.
Showing all 2 results