Description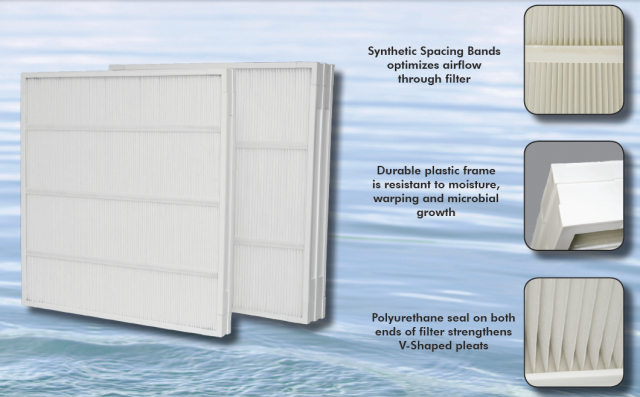 The Viledon difference incorporates the following innovative features:
Proprietary Synthetic Media – Viledon manufactures its own progressively structured, depth loading media assuring low-pressure drop, enhanced dust-holding capacity and extended service life.
Durable Plastic Framing System – Eliminates rust, corrosion, or beverage board (cardboard) failure due to moisture.
Polyurethane Potted Media – Potted media eliminates particle and water bypass.
Synthetic Spacing Bands – Synthetic spacing bands ensure the integrity of the "V" pleat geometry to optimize airflow and low-pressure drop.
Self-supporting Media – Durable media resists tears or punctures during handling, unlike competitive brands.
Modular Capabilities – The Viledon MINI's can be clipped together as a single unit or installed as separate stages to meet your systems particulate and/or gas phase (carbon) requirements.
Plus! Energy & Pressure Drop Savings!
The Viledon MINI has a pressure drop savings of as much as 55% vs. competitive box filters.